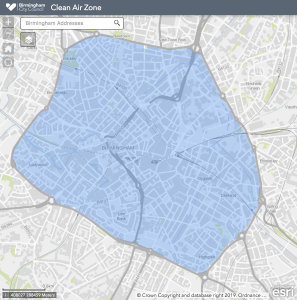 Birmingham, like a number of other major cities in the UK, needs to deliver a Clean Air Zone in order to reduce pollution, mainly caused by vehicles on the roads, which is having a harmful effect on the health of people living, working and studying in the city.
With a growing population, new infrastructure, the development of the rail and metro systems and the Commonwealth Games in 2022, improving air quality is a key measure for the city.
Coeval Limited, one of the UK's leading supplier of roadside driver information message signs, are pleased to announce that they have been awarded a contract to supply message signs, via a contract with P. Ducker Systems Limited, a leading infrastructure systems integrator, to Birmingham City Council for the Birmingham Clean Air Zone project.
The contract requires Coeval to provide several message signs which will promote and inform the public about the Birmingham Clean Air Zone and allow other traffic information messages to be displayed. Following the successful commissioning of the message signs, Coeval will enter into a maintenance agreement to ensure a reliable ongoing service.
The Birmingham Clean Air Zone, which is due to become operational from 1 July 2020, running 24 hours per day 365 days per year, covers routes within the A4540 Middleway Ring Road. The aim of the scheme is to reduce the NO2 in the air to a maximum average of 40µg/m3 in the shortest time possible.
For more information on the Birmingham CAZ:
https://www.brumbreathes.co.uk/
For more information on PDS Limited: