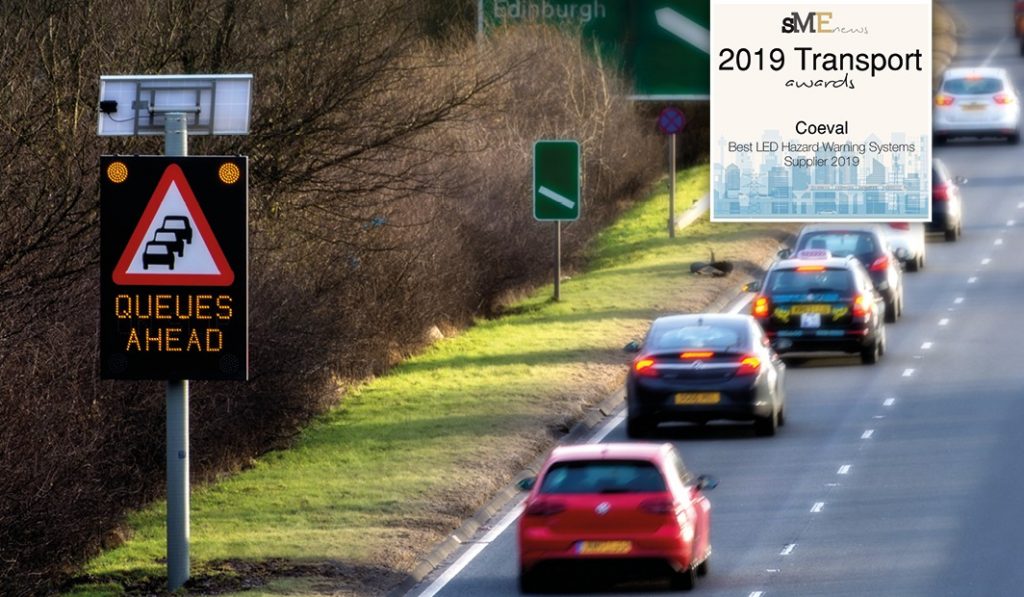 We are thrilled to announce that Coeval has won the award for the 'Best LED Hazard Warning Systems Supplier' in SME's 2019 Transport Awards. This award is a recognition of Coeval's leading position in the industry, setting the standard in designing, manufacturing, installing and maintaining bespoke signage.
On receipt of the award, Gary Higgins, CEO at Coeval, spoke on the offering Coeval provides that has led to this success: "Coeval offer a start-to-end service consulting with our customers to find the best solution to their road safety issues. This ranges from supplying a single sign to assisting with the planning and implementation of new road junctions, warning system project and traffic calming."
Winners of 'Best LED Hazard Warning Systems Supplier'
The products that Coeval designs and manufactures are the result of continuous development and a focus on quality – but without sacrificing value-for-money and environmental friendliness: "Our products use low voltage LEDS, run on sustainable energy such as wind or solar power, and use robust materials to withstand extreme weather conditions and vandalism. Use of alternative power reduces the requirement for major excavation, resulting in less disruption to road users and the natural environment."
As Gary explains, working alongside our customers we provide more than a product – with over 30 years of experience, our expertise is a crucial part of our business operation: "Ultimately, we aim to provide alternative solutions to ensure that no problem goes unsolved. Our flexibility and experience allow us to work independently and collaboratively to fulfil small and large contracts."
Clear communication and collaboration with clients would not be possible without the same practices happening internally: "Coeval has an open communications policy and encourages staff at all levels to have an input in how the company reaches its desired outcomes. Regular meetings and feedback sessions ensure that everyone has the opportunity to give their views."
About SME News
SME News is a leading quarterly publication for small and medium-sized enterprises across the UK and Ireland. Circulating to over 78,000 individuals in various sectors across the UK SME marketplace, they aim to provide a valuable tool to SMEs and their leaders for running their business from day to day.
The SME Awards are part of SME News' flagship initiative to promote and recognise the best of the best in small and mid-size business, and we are proud to receive their recognition for our ongoing work to make British roads a safer place.